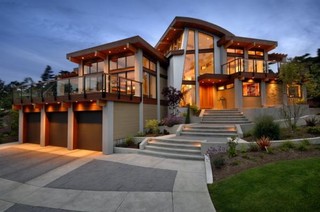 mid-century modern architecture.
 The design style he made famous links indoor and outdoor spaces by extending the living space into the backyard.  Rooms had multiple outdoor views, or multiple access points, encouraging an appreciation of healthy living. Today's contemporary timber frame, 
post
 and 
beam homes incorporate many mid-century modern design elements.
 Large windows, open spaces and wood beam supports offer an updated version of Wright's clean, beautiful style. Both classic and contemporary post and beam home designs use elements found in mid-century modern design including open vaulted ceilings, accent walls, open living spaces, floor to ceiling windows and large sliding doors. Beautiful wood beams create a rustic, yet modern feel. The style offers an elegant simplicity, with a warm inviting interior space that makes for easy living.
Southern Draw Design+Build specializes in contemporary post and beam home design and construction. Call us today for a free home design consultation 866-930-9660. Serving Hilton Head Island, Knoxville, Tennessee and Western North Carolina.